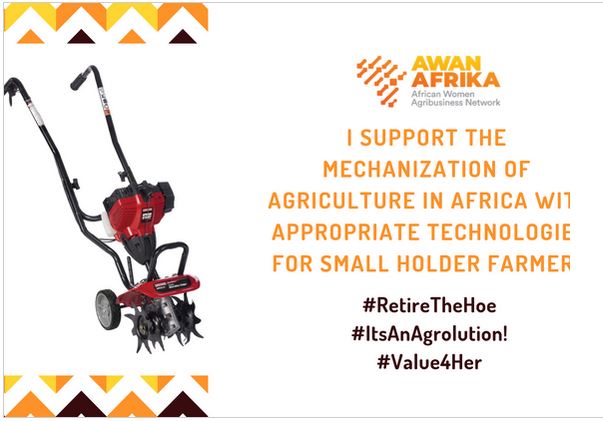 Mechanization of African agriculture has the potential to create rural employment benefitting women smallholder farmers and youth innovators", African Women Agribusiness Network – Afrika (AWAN-Afrika) has said.
Welcoming the African Union campaign to "#RetireTheHoe to the Museum," AWAN-Afrika Executive Director (ED), Beatrice Gakuba said low levels of mechanization have contributed to agricultural productivity that is far below other parts of the world and little earnings for women who till the land. However, with the adoption of agricultural mechanization, there will be opportunities for youth in the agricultural value chain.
"It is time to change the face of African agriculture to that of a women bended over her farm with a hand-held hoe, to one that is teeming with machines and innovations, because agricultural mechanization is the only way Africa will achieve its ambitious plan of zero hunger by 2025," said Ms. Gakuba.
It is estimated that at least 60% of agricultural power in Africa is still provided by human power, women make up about 50% of the farm labour force in Sub Saharan Africa, making it one of the top sources of employment for women and youth.
"The launch of the mechanization campaign by the African Union provides an incredible opportunity to enhance the potential of women to feed Africa and gain from their efforts, there is no doubt that Africa's growth potential is linked to mechanization of its agriculture, it is also an opportunity to create youth employment," added the AWAN-Afrika ED.
To succeed in retiring the hoe to the museum, AWAN-Afrika says African countries must work with the private sector to come up with innovative financing models as well as machines that will make it easier and more affordable for smallholder farmers.
"For a long time, mechanized agriculture has been a reserve of large-scale farmers who can afford the high prices of machines but with innovation, small and medium machines are now affordable to small scale farmers, she added.
"We stand a chance to create millions of jobs along the agricultural value chain, especially among the youth who have shunned agriculture, seeing it as labour intensive and unproductive," Ms. Gakuba concludes.
About AWAN-Afrika
The African Women Agribusiness Network (AWAN) – Afrika is a non-profit organization limited by guarantee. It provides a platform for African women and youth in Agribusiness to access markets, trade information and finance so as to leverage opportunities to increase trade in the regional markets, tap into the newly created Africa Continental Free Trade Area (AfCFTA) and the global market. The network comprises of individual members' businesses including producers, processors, aggregators, export companies and input suppliers among others across 35 countries in Africa.
NOTES
• Currently, over 60% of farm power is provided by human muscles, mostly from women, the elderly and children; only about 25% of farm power is provided by drudge animals and less than 15% of mechanization services are provided by engine power (AU and FAO, 2018).
• The 25th Ordinary Session of the Summit of African Union Heads of State and Government held in South Africa had the theme: "2015 Year of Women Economic Empowerment and Development towards Africa's Agenda 2063". At the summit, the then AU Chairperson Dr. Nkosazana Dlamini Zuma launched a campaign to "confine the handheld hoe to the museum".
• Building on the initiative by the former Chairperson of the AUC and the mobilization of women around the theme, the AU Commissioner of Rural Economy and Agriculture together with the First Lady of Burkina Faso, will inaugurate the first Statue in Burkina Faso to symbolize the retiring of a Hand-Held Hoe as part of International Rural women's day in 2019.
• The statue will be erected and be formally inaugurated on October 15, 2019 in Bobo Dioulasso on the margins of the celebrations of the International Rural Women Day.
• AWAN–Afrika will be part of a high-level panel discussion dubbed 'Framing presentations on "Women in Agriculture: Mechanization, Land Rights and the Value Chains"'.